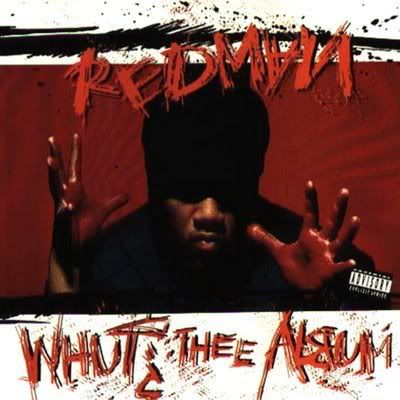 Redman is one of those rappers who, despite widespread critical acclaim and an undisputed right to some place in the hip hop history books, still seems like he never quite made it into the mainstream consciousness beyond
How High
. Indeed, his collaborations with Method Man have enough people thinking he's simply the 10th member of Wu-Tang (he's not). Yet Dr. Trevis' style has always been a little funkier and a lot less serious than that of the Wu as a whole. Repping Newark, New Jersey, the wit and punchiness of Redman's flow has changed little since his debut,
Whut? Thee Album
. It's interesting to compare Red's colorful use of samples from P-Funk, Zapp, Sly and other funk artists to the G-Funk stuff that was happening on the West Coast around the same time. The tunes are equally celebratory, but with a faster pace and a distinctly East Coast mentality. From the hype single "Time 4 Sum Aksion" to the smooth "Tonight's Da Night", Red's production (mostly a collaboration with EPMD teammate Erick Sermon, who gave Red his break) is pretty close to flawless and shockingly complex for 1992. The obvious highlight of the album is "How To Roll A Blunt", containing my favorite mantra "Not the city of Philly, silly punk/ I'm talkin' about the cigar, the Phillie blunt", but the album is a classic start to finish. Regardless, I feel that warning is in order for those who have a distaste for skits: there are a fuckin' lot of them on this and all of Red's records. Enjoy!
Tracklist:
1. Psycho Ward (Skit)
2. Time 4 Sum Aksion
3. Da Funk
4. New Break (Skit)
5. So Ruff (feat. DJ Scratch)
6. Rated "R"
7. Watch Yo Nuggets (feat. Erick Sermon & Charlie Marotta)
8. Psycho Dub (Skit)
9. Jam 4 U
10. Blow Your Mind
11. Hardcore
12. Funky Unlces (Skit)
13. Redman Meets Reggie Noble
14. Tonight's Da Night
15. Blow Your Mind (Remix)
16. I'm A Bad
17. Sessed One Night (Skit)
18. How To Roll A Blunt
19. Sooper Luver Interview (Skit)
20. A Day of Sooperman Lover
21. Encore
Def Jam, 1992

Download