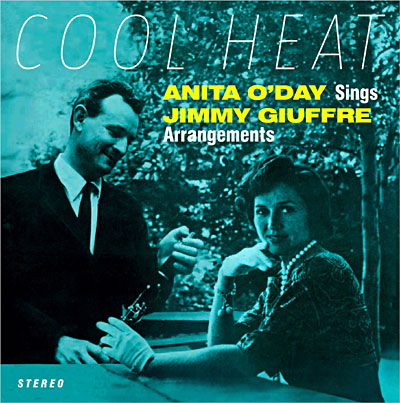 Hitting the ground running on this, my return from summer hiatus. Anita O'Day is one of my favorite jazz vocalists ever. With her supple, shining copper tone and her short, sexy delivery, O'Day is maybe the only white jazz singers to hold her own among her inspirations, heavyweights like Billie and Ella. Beyond her musical talent, Anita was also a strong, sassy, shit-talkin' lady and a survivor of long-term addiction and abuse.
The tunes she sings on these recordings generally stay within the realm of fast playful bebop and swing driven by Anita's fierce coolness and seemingly endless melodic flexibility (you try singing "Take The A Train" a capella sometime!). There is a bit of overlap between the albums and the compilation. The recording is a bit scratchy for
Once Upon A Summertime
, but they almost heighten the cool ambience of Anita's incomparable "Is You Is Or Is You Ain't My Baby?" or inventive "Girl From Ipanema". Thanks to Adam for this copy of
Cool Heat,
on which O'Day sings Jimmy Giuffre arrangements
.
Also, Buns O'Plenty recently put up an awesome collaboration between Anita and vibes player Cal Tjader, which I highly encourage you to
check out.
Tracklists:
Cool Heat
1. Mack The Knife
2. Easy Come, Easy Go
3. Orphan Annie
4. You're A Clown
5. Gone With The Wind
6. Hooray For Hollywood
7. It Had To Be You
8. Come Rain Or Come Shine
9. Hershey Bar
10. A Lover Is Blue
11. My Heart Belongs to Daddy
12. The Way You Look Tonight
Download
Once Upon A Summertime
1. Sweet Georgia Brown
2. Love For Sale
3.S'Wonderful
4. They Can't Take That Away From Me
5. Boogie Blues
6. Tea For Two
7. Once Upon A Summertime
8. The Girl From Ipanema
9. Is You Is Or Is You Ain't My Baby?
10. Night And Day
11. Anita's Blues
12. A Nightingale Sang In Berkeley Square
Download
Anita O'Day Sings the Winners
1. Take The "A" Train
2. Tenderly
3. Interlude (A Night In Tunisia)
4. Four
5. Early Autumn
6. Four Brothers
7. Sing, Sing, Sing
8. My Funny Valentine
9. Frenesi
10. Body and Soul
11. What's Your Story Morning Glory
12. Peanut Vendor (El Manisero)
13. Whisper Not
14. Blue Champagne
15. Stompin' At The Savoy
16. Hershey bar
17. Don't Be Tht Way
18. Peel Me a Grape
19. Star Eyes

Download